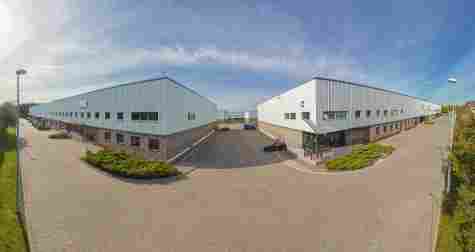 Salad Story, the largest healthy restaurant chain in Poland, has leased 1,070 sqm of warehouse and office space in the Warsaw Distribution Center. The tenant was represented during the negotiation process by real estate advisory firm Newmark Polska.
Salad Story has operated in the catering sector since 2007, when it opened its first restaurant in the Złote Tarasy shopping centre in Warsaw. It has grown to become the largest healthy fast food restaurant chain in Poland, offering salads, vegan burgers, hot dishes based on groats, wraps and soups. To ensure delicious and fresh meals for its customers, it relies on local produce and deliveries from Polish suppliers. Each restaurant features eco-friendly solutions demonstrating the chain's commitment to environmental care.
"Salad Story expected comprehensive assistance during its search for warehouse and office space and lease negotiations. The Warsaw Distribution Center was chosen for both its location and the size of the leased unit, providing our client with the best possible springboard for further growth. We are pleased that Salad Story trusted us to secure optimal space for its business," says Agnieszka Marczak, Senior Advisor, Newmark Polska.
"In the first quarter of 2022 we made a decision to set up a central warehouse to safeguard the growth of our logistics operations. We instructed Newmark Polska to find the right location. Of all the facilities presented to us, the warehouse in the Warsaw Distribution Center caught our attention. The prime location and the right size of the building were the key drivers behind our decision to begin negotiations and to finally sign the lease," says Łukasz Jędral, Procurement and Logistics Manager, Salad Story S.A. "The favourable lease terms we negotiated with the support of Newmark Polska and our excellent working relationship with the property manager also convinced us to move our Central Kitchen to the WDC. These new spaces will help us further improve our storage, logistics and production capabilities."
"We are pleased with the results of our joint efforts and are very grateful to Salad Story and Newmark Polska for their cooperation. We are also delighted that Salad Story chose the Warsaw Distribution Center and signed up to join our tenants," says Patrycja Malicka, Senior Leasing Manager, CBRE, who represented the landlord during the negotiation process.
The Warsaw Distribution Center, located in Warsaw's Włochy district, is a modern distribution park comprising five warehouse and office buildings with a combined area of 35,000 sqm. Situated close to S2/S8 Salomea-Wolica interchange, the A2 motorway and F. Chopin International Airport, it makes for easy distribution to the Warsaw, domestic and international markets.