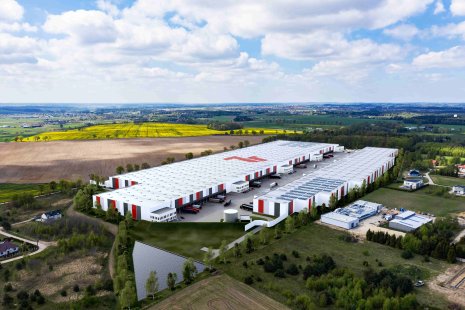 7R, a developer specialising in high-quality warehouses, is launching its next project in Pomerania. Construction of 7R Park Gdansk III in Barniewice has just started. Complex SAD has become the first tenant. The company was represented in the negotiations by Newmark Polska consultants.
7R Park Gdansk III is being constructed in Barniewice, Poland, near the Tricity ring road. Thus, the warehouses will be located close to an international airport with a cargo terminal, seaports in Gdynia and Gdansk, and will be perfectly linked with the Tri-City. The project will include two halls totalling 112,000 sqm of class-A warehouse space, one over 80,000 sqm and the second nearly 32,000 sqm. 
The first tenant of 7R Park Gdansk III is a logistics company, Complex SAD, which for over 20 years has been providing services to companies importing and exporting products from outside the European Union, provides logistics services, and has its own customs agency. Complex SAD will move into the 7R warehouse in the second quarter of 2024 and will occupy 12,300 sqm. During the negotiations, Complex SAD was represented by the Newmark Polska.
"The Tricity combines modernity, great development opportunities, and an attractive location, making it a unique place on the map. That is why we decided to open another warehouse here. What is important is that, apart from the strategic location, the 7R Park Gdansk III facility will be equipped with several initiatives to support the ecology at the site," says Łukasz Borkowski, Director at Complex SAD. 
"Consistent implementation of solutions to support the local ecology is an important focus for us. We want to support our business partners in reducing carbon emissions. We are pleased that tenants pay attention to these aspects. We would like to thank the representatives of Complex SAD and Newmark Polska for their trust and efficiently conducted negotiation process," says Marzena Taube, Regional Leasing Director at 7R.
"We are glad that once again we had the opportunity to support Complex SAD in the lease of modern warehouse space in the Tri-City. This is already the client's third warehouse. At the same time, it will be the company's largest warehouse with an area of over 12,000 sqm, located in a strategic location between the ports in Gdynia and Gdansk, and in close proximity to the Tri-City ring road, which will help facilitate the distribution of goods into the country," says Jakub Dudkiewicz, Senior Associate in Industrial and Warehouse Department at Newmark Polska.
7R Park Gdansk III will have numerous solutions supporting the local environment, which will allow tenants to save on energy costs. The warehouses will be equipped, among others, with photovoltaic and skylights, providing access to natural light and energy-efficient LED lighting. There will also be electric car charging stations. The site will also include flower meadows, insect houses and beehives. All these solutions will allow the building to apply for BREEAM certification at the Excellent level.
7R Park Gdansk III will also feature facilities for employees. It will feature a chill-out zone with urban furniture designed by young artists as part of the "7R Warehouse of Art - Young Art for the Planet" competition.