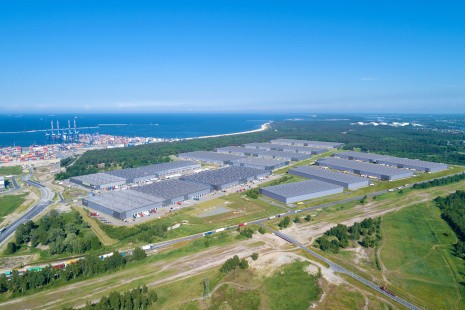 Complex SAD, which has been active in transport, forwarding and logistics for the past 20 years and focusing on providing services in Polish harbours, has renewed its lease for warehouse space in the Pomeranian Logistics Centre in Gdansk. It also decided to increase its warehouse footprint to close to 8,000 sqm. The tenant was represented in the lease negotiation process by real estate advisory firm Newmark Polska.
Complex SAD has been in business since 2002. It comprehensively supports importers and exporters of goods by providing customs and forwarding services and representing clients before the Customs Office. Complex SAD also offers warehousing of goods (including in a bonded warehouse), handling and picking. It holds a prestigious certificate of an Authorized Economic Operator (AEO) who fulfils the highest supply chain security standards, is authorized for easier customs controls and simplified customs procedures. Complex SAD is a reliable business partner who has built an over 17,500-strong and happy client base.
"The lease renewal and expansion in the strategically located Pomeranian Logistics Centre is a clear signal that Complex SAD is capable of delivering the best solutions for our partners. Newmark Polska provided critical assistance in negotiations and helped us secure very good lease conditions," says Łukasz Borkowski, Director, Complex SAD.
"Complex SAD decided to stay on and to lease additional space on account of its successful cooperation with the Pomeranian Logistics Centre and the option to take over an adjacent unit in the same building. We are delighted that drawing on our expertise and experience we were able to assist our client once more in its growth plans," says Jakub Dudkiewicz, Associate, Industrial and Warehouse Department, Newmark Polska.
"We negotiated favourable lease conditions on behalf of Complex SAD just before rents began to trend upwards – a strong advantage in the competitive logistics market," adds Michał Rafałowicz, Regional Director, Newmark Polska.
The Pomeranian Logistics Centre in Gdansk comprises class A warehouses delivered by developer and asset manager GLP. It is located in the immediate vicinity of the Deepwater Container Terminal, approximately 16 km from Tricity's ring road. In addition to its excellent transport connections, it also features technologies promoting safety, savings on utility costs and a comfortable work environment.