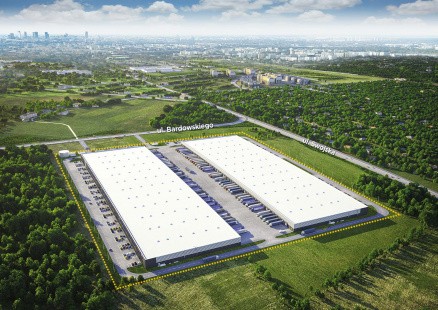 TEKNOS, a global supplier of paints, has leased 5,734 sqm of warehouse and office space in the Hillwood Targówek logistics park in Warsaw. It will move into the park's second building, whose construction began in the first quarter, later this year. TEKNOS was represented in the search for new space and negotiations with the developer by real estate advisory firm Cresa Poland.

TEKNOS is a leading supplier of industrial coatings and decorative paints. It was established in 1948 and is one of Finland's largest family-owned businesses. TEKNOS is headed by CEO Paula Salastie, who currently represents the third generation of the Kiikka family. Today, with operations in more than 20 countries in Europe, Asia and the USA, it employs 1,800 people globally. In 2020, the TEKNOS group had sales of approximately EUR 384 million.

The new building will be used for storing paints and coatings. TEKNOS will also relocate its Warsaw headquarters to Hillwood Park Targówek, where it will occupy office and social space on two levels that will be customised to meet its needs and requirements.
"Our new headquarters presents an opportunity not only to provide a more ergonomic, creative and inspiring space for our employees and visitors, but also to implement sustainable solutions that will help reduce our environmental footprint and have a positive effect on the work environment and well-being of our staff," says Piotr Niedziółka, Managing Director, TEKNOS Sp. z o.o. 
"We are excited to be working with TEKNOS, a company with such a long history and traditions. All the space - both warehouse and office - has been tailored according to the instructions and requirements of TEKNOS. Key features will include electric vehicle and forklift charging sockets. In front of the building there will be a green patio with recreational facilities and many plants, as well as modern bicycle stands," says Wojciech Dachniewski, Business Development Director, Hillwood Polska. 
 
Hillwood Targówek will comprise two class A warehouses with 24,609 sqm each. The second warehouse, which is currently under construction, is scheduled for delivery in the last quarter of this year. The logistics park is located in Warsaw's Targówek district, Bardowskiego Street, close to Radzymińska Street, where it enjoys easy access to the city centre, the S8 expressway as well as exit roads from Warsaw, including the A2 motorway. The complex is just 8 km from the city centre and 15 km from International Okęcie Airport. It also provides a large and convenient car park. 
"TEKNOS was looking for warehouse space in Warsaw or its vicinity. Due to the type of its products, the building had to be equipped with specialist fire-fighting and temperature control systems. Although we analysed both leasing and BTS owner-occupancy options for TEKNOS, the developer's flexibility and the location of Hillwood Targówek were the key decision drivers for the tenant. We are pleased to have supported our client in this project," says Jakub Dudkiewicz, Senior Advisor, Industrial and Warehouse Department, Cresa Poland.
"Due to its advanced technical requirements, finding suitable space well in advance was the number one priority for TEKNOS. Thanks to its optimum depth, the new warehouse unit will provide a more comfortable operational environment. Another advantage of Hillwood Targówek is its modern high quality office space offering multiple fit-out options," says Jakub Kurek, Associate Director, Cresa Poland.
The warehouse has been equipped with energy-saving LED lighting. It has a fire load of over 4,000 MJ/sqm and provides round-the-clock security. The warehouse leased by TEKNOS features additional fire safety solutions dedicated to the storage of paints and coatings, including dry foam extinguishers. The park will also have many trees and shrubs and flowering meadows that do not require mowing.