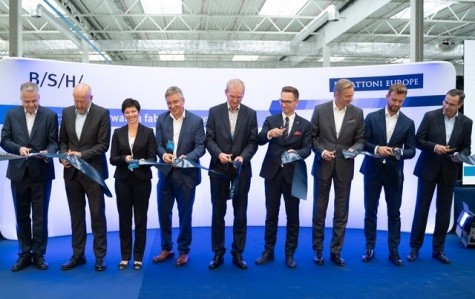 Panattoni Europe, market leader in industrial real estate in Europe, has opened the largest manufacturing facility in its portfolio and the largest plant manufacturing household appliances in Europe – a dishwasher factory for BSH Sprzęt Gospodarstwa Domowego. The facility dedicated to Industry 4.0 was built in Łódź – next to the Central European Logistics Hub – taking up 57,000 sqm. The official opening took place on 10 September, 10 months after the acquisition of the site. The factory neighbours on the BSH Logistics Centre and the upcoming Panattoni Appliance Park, developed specifically to serve BSH's manufacturing facility.
The total space offered by the BSH dishwasher factory created by Panattoni Europe amounts to 57,000 sqm. Consequently, it is the largest manufacturing facility of household appliances in Europe and the largest factory in Panattoni Europe's portfolio. The production hall takes up 47,400 sqm. It features state-of-the-art Industry 4.0 solutions – underlying the integration of human resources and digitally controlled machines with internet and information technologies. Moreover, the building has been fitted with an intelligent building management system (BMS). Apart from the manufacturing section, 9,500 sqm in the facility are dedicated to office and social space. It includes creative zones fostering effective collaboration in a friendly atmosphere.
The BSH factory in Łódź has taken a place at the centre of the company's logistics hub. By constructing two roofed and walled passageways, 58 metres long each, Panattoni Europe linked it up with the 79,000-square-metre BSH Logistics Centre. The latter, which has its own railway siding, finds itself at the Central European Logistics Hub – the largest logistics complex in Europe. The tunnels connecting it with the factory allow for an uninterrupted flow of materials between the facilities, and facilitate the logistics of finished products from the factory to their destinations. 
Source: http://www.panattonieurope.com/en/country/poland/press-room/news/panattoni-europe-opens-a-bsh-dishwasher-factory-in/